March 07, 2012
Source:
mongabay.com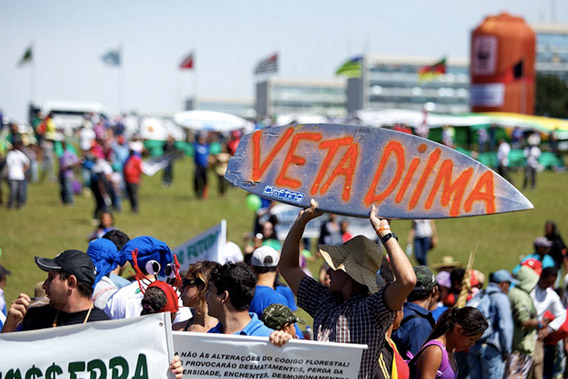 Crowd rallies for President Dilma Rousseff to veto changes to Brazil's forest code. Photo by: WWF-Brasil.
A coalition of 200 organizations, known as the Comitê Brasil in Defense of Forests and Sustainable Development, rallied today in Brasilia against proposed changes to Brazil's Forestry Code. The code, which was supposed to be voted on this week but has been delayed to shore up more support, would make changes in over 40-year-old code that some conservationists fear could lead to further deforestation in the Amazon. Protestors called on the President of Brazil, Dilma Rousseff, to veto the bill as it stands now, holding signs exclaiming, "Veta Dilma!" ("Veto it Dilma!").
"We have to be extremely vigilant to ensure that the interests of small hegemonic groups do not prevail against the wishes of society at large, which is tired of laws that benefit the few to the detriment of the many," WWF-Brasil CEO Maria Cecília Wey de Brito said in a press release, calling both versions of the bill that are currently circulating through the Brazilian legislature "extremely damaging." WWF-Brasil is one of the organizations in the Comitê Brasil in Defense of Forests and Sustainable Development coalition.
Current proposed changes would lessen the amount of forest landowners would need to maintain—a law that has been widely flouted across Brazil—and provide amnesty for some of those who have cut forest illegally in the past. The changes are backed by big agricultural and economic interests in the country who argue the bill would allow agricultural expansion while still protecting the environment.
At stake may be the recent success Brazil has had in combating deforestation in the Amazon: since 2004, deforestation has fallen 80 percent in Brazil's Amazon. Still the Amazon continues to shrink in Brazil and beyond raising concerns with scientists that a combination of on-going forest loss and climate change-linked droughts could push parts of the world's greatest rainforest into savannah.