November 23, 2011
Source:
mongabay.com
A large Brazilian construction company has pulled out of a Peruvian dam project citing opposition from indigenous communities, reports International Rivers.
In a letter addressed to the Peruvian Ministry of Energy and Mines, Odebrecht said it was withdrawing from the 1278-megawatt Tambo-40 Dam on the Tambo River in the Peruvian Amazon. The company said it would "respect the opinion of local populations" in pulling out of the project, which would have affected some 14,000 indigenous people along the Tambo and Ene Rivers.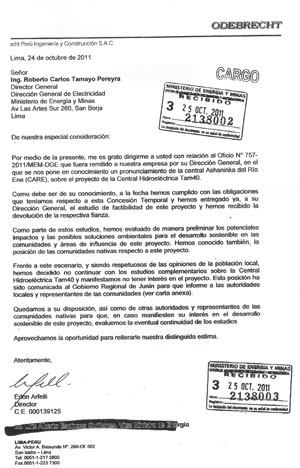 Odebrecht reached its decision after meeting with the Ashaninka of the Tambo River.
The move, which leaves the dam without a developer, was welcomed by Manuel Leon, an Ashaninka leader.
"We welcome this decision by Odebrecht to respect our rights," he said. "We hope that other Brazilian dam builders will follow Odebrecht's lead and make a similar decision."
The Ashaninka will now focus their efforts on Electrobrás — another Brazilian company — which is hoping to build another dam on the Tambo River.
Brazilian dam-builders are targeting dozens of rivers across the Amazon Basin. Much of their funding comes from Brazil's development bank BNDES.