October 19, 2011
Source:
mongabay.com



In a campaign launched in Italy on Wednesday, Greenpeace accused Brazilian beef giant JBS-Friboi of breaking its commitment to exclude cattle connected with illegal deforestation and slave labor from its supply chain.

Greenpeace says it has uncovered evidence of JBS breaking its 2009 commitment on responsible cattle sourcing. The agreement signed by JBS commits it to avoid buying cattle from properties that have been blacklisted by the Labor Ministry, embargoed by Brazil's environmental protection agency IBAMA, or are situated within indigenous territories.

Greenpeace says the discovery "demonstrates weaknesses in the supply chain for responsible leather and meat products."

"Consumers buying products originating from JBS' supply chain cannot be assured their products are responsibly sourced, meaning not contributing to deforestation and slave labour," said Greenpeace in Broken Promises: How the cattle industry in the Amazon is still connected to deforestation, slave labour and invasion of indigenous land [PDF], a report launched as part of the campaign.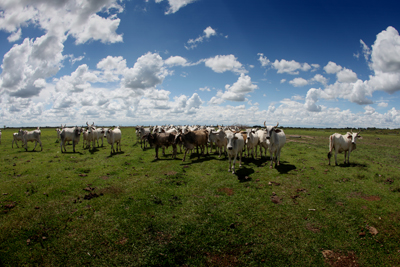 Greenpeace is calling upon JBS to honor its commitment under the 2009 Cattle Agreement signed by other cattle majors. The environmental group wants JBS to sever ties with ranches exposed in its new report and establish a "transparent and efficient" monitoring process for implementation of its commitment. It is also asking JBS and other Brazilian cattle giants to "publicly support strong comprehensive laws that seek to decrease and eliminate deforestation caused by cattle ranching in Brazil."

Greenpeace chose to launch its campaign at a fashion show in Bologna, Italy. The Italian fashion industry is a high-profile buyer of Brazilian leather, making it an attractive target for activists.

Greenpeace's cattle campaign began in June 2009 and met immediate success. Within three months of launching the campaign, major supermarkets and shoes companies demanded their suppliers provide them with deforestation-free beef and leather. The major slaughterhouses — including JBS, Bertin, Marfrig, and Minerva — responded by signing the Minimum Criteria for Industrial-Scale Operations With Cattle and Bovine Products in the Amazon Biome Agreement, which commits them to cleaning up their supply chains.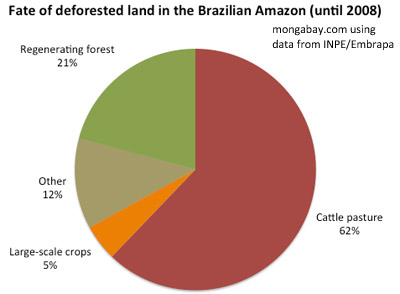 Cattle ranching is the largest driver of deforestation in the Amazon. According to a study published earlier this year by the Brazilian government, more than 60 percent of deforested land in the Brazilian Amazon is used as cattle pasture. Most of this is low-intensity ranching, with less than one head of cattle per hectare. While financial returns from such operations are low, cattle ranching is often used as a vehicle for land speculation. Forestland has little value—but cleared pastureland can be used to produce cattle or sold to large-scale farmers.