Tuesday 27 September 2011
Source:
guardian.co.uk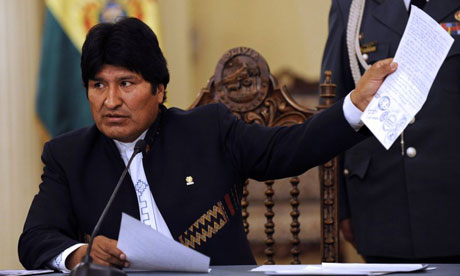 Evo Morales, the Bolivian president, announces the suspension of the contentious Amazon highway. Photograph: Jorge Bergal/AFP/Getty

The Bolivian president, Evo Morales, has halted work on a highway being built in the Amazon in the face of a month-long protest march and a police crackdown on demonstrators.

Morale said work on the 185-mile (300km) highway would not be resumed unless it was approved in a referendum in the two provinces it was to link.

"There needs to be national debate so the two provinces benefited or involved in this can decide. In the meantime the project is suspended," said Morales, criticising the violence used by police to disperse marchers over the weekend.

Police fired teargas and detained protesters when they raided an encampment in the Yucumo region 185 miles north of La Paz late on Sunday, local media said.

The raid was criticised by opposition leaders, the ombudsman and several government officials including the defence minister, Cecilia Chacon, who quit in protest. "This is not the way! We agreed to do things differently," Chacon wrote in her resignation letter, which was published by Bolivian media.

Morales denied giving police the order to break up the march, condemned the "violence, excesses and abuse" and promised an investigation.

Fierce opposition to the road proved especially uncomfortable for Morales because it was led by Indian communities who normally back his pro-indigenous reforms.

Bolivia's first president of indigenous descent, Morales has put the highway at the heart of his drive to boost infrastructure, but that has tested his commitment to conservation.

The dispute over the $420m project has exposed differences within his Movement Toward Socialism (MAS) party. Some MAS legislators expressed support for the demonstration and the demands of the 12,000 residents of the Isiboro Secure Indigenous Territory and National Park, which lies in the path of the planned highway.

Morales is highly popular among the Quechua and Aymara indigenous majority in the Andean highlands but opposition to his policies is strong in the eastern lowlands, even among indigenous groups.

Violent protests are common in Bolivia but tensions that toppled two previous governments have eased since Morales was elected in late 2005.