September 04, 2011
Source:
mongabay.com
62 percent of the area deforested in the Brazilian Amazon until 2008 is occupied by cattle pasture, reports a new satellite-based analysis by Brazil's National Institute for Space Research (INPE) and its Agricultural Research Corporation (Embrapa).
The research found that of 719,000 square kilometers or 17.5 percent of the Brazil had been cleared by 2008. 447,000 square kilometers of the area is used for cattle ranching, with an average density of 1.6 head of cattle per hectare, while 35,000 square kilometers (less than 5 percent) was occupied by industrial agriculture like soy. The state of Mato Grosso had the largest percentage of forest forest land converted for large-scale agriculture, with 15 percent.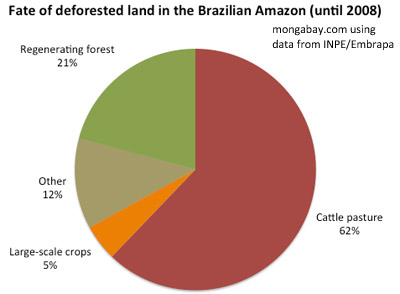 The analysis concluded that more than 21 percent of the deforested is in the process of regenerating forest, either from natural recovery or the establishment of plantations.
Other land use included mining (half of which occurs in the state of Para), settlements and urban areas, zones flooded by dams, and other development. The full results of the study have not yet been published.
The findings seem to confirm that cattle ranching remains the predominant driver of deforestation in the Amazon rainforest. In a region where land prices are appreciating quickly, cattle ranching is used as a vehicle for land speculation, much of which is illegal. Forestland has little value—but cleared pastureland can be used to produce cattle or sold to large-scale farmers. But cattle ranching in the Amazon has increasingly become a multibillion dollar business, supplying domestic markets with beef and overseas markets with leather products.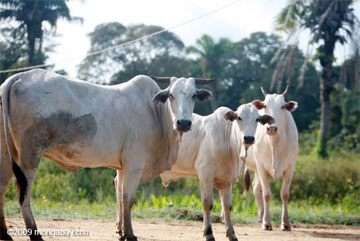 Since 2009 major cattle buyers and the Brazilian government — pushed by environmental campaigners — have cracked down on deforestation for cattle production. State-run banks are now mandating landowners register their properties for environmental compliance in order to gain access to low-interest loans. Meanwhile major slaughterhouses have pledged stricter controls on their cattle sourcing to ensure they aren't driving deforestation or the use of slave labor on ranches.