July 21, 2011
Source:
mongabay.com
Indigenous communities working to protect the Amazon rainforest got a boost last week with the launch of a "biocultural conservation corridor" initiative in two regions of Brazil.
The initiative, coordinated by the Amazon Conservation Team (ACT) and partially funded by the Skoll Foundation, which contributed $1.6 million, aims to prevent deforestation across 46 million ha (114 million acres) in the northeastern and southwestern sections of Brazilian Amazon.
The initiative will "strengthen the capacity of the indigenous communities and government agencies to monitor, manage and protect the indigenous reserves and adjacent areas while creating positive conditions for long-term financing of forest protection," according to a statement from the Skoll Foundation.
The project will also fund development of sustainable economic activities for indigenous tribes, which include the Zoró, Diahui, Cinta Larga, Surui, Wai Wai, Kaxuyana, Tiriyó, and Wayana-Apalaí.
"The conservation and sustainable management of complex tropical mosaic of landscapes is inherently challenging," said Mark Plotkin, President and co-founder of ACT, in a statement. "But we believe that working closely with indigenous peoples on their lands and then creating alliances across the cultural, biological, political and economic spectrum is a powerful and holistic approach to protecting rainforest diversity."
The initiative presents a unique opportunity to involve indigenous groups in conservation efforts across two sharply contrasting regions — one relatively untouched and under low threat (the Karib), the other heavily impacted by deforestation and under high threat (the Munde-Kwahiba) — potentially providing valuable insight for similar approaches elsewhere.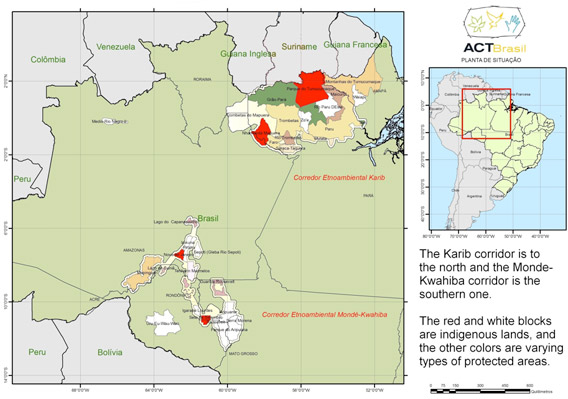 "This initiative represents both a great challenge and opportunity in the realm of indigenous rights and indigenous territories," says Liliana Madrigal, ACT Vice President, in a statement. "We feel that the implementation of the biocultural conservation corridor approach has the potential to yield very valuable experiences and lessons for landscapes as varied as the Canadian boreal forest and the Australian outback."
ACT Brazil will lead the initiative. Partners include Kanindé, the Conservation Strategy Fund, Metareilá, and IDESAM. Kanindé is an NGO run by the Surui people, who are pioneering an indigenous-run forest carbon (REDD+) project on their lands.
"The Amazon Conservation Team, working in partnership with indigenous colleagues and local stakeholders, is implementing inclusive and innovative solutions to better manage and protect Amazon rain forests," said Sally Osberg, Skoll Foundation President and CEO. "We believe this local, collaborative approach is critical to demonstrating impact and driving long term behavior and policy changes."
"This initiative provides significant support for the Surui people since it helps to mobilize our people to defend the environment and our culture," added Chief Almir Surui, Major Leader of the Surui people. "It also gives voice to the people of the forest, who contribute to the elaboration of public policies for national and international recognition of the potential of our biodiversity. The initiative shows that it is possible to develop a sustainable environment in order to stimulate the recognition of the green economy."