February 27, 2011
Source:
Mongabay.com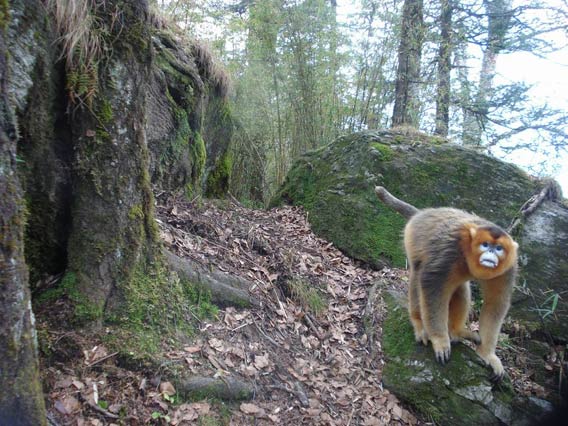 Golden snub-nosed monkey (Rhinopithecus roxellana) in China caught by camera trap. This species is listed as Endangered by the IUCN Red List. Photo credit: Smithsonian.
Photos taken by camera traps have not only allowed scientists to study little-seen, sometimes gravely endangered, species, they are also strangely mesmerizing, providing a momentary window—a snapshot in time—into the private lives of animals. These are candid shots of the wild with no human in sight. While many of the photos come back hazy or poor, some are truly beautiful: competing with the best of the world's wildlife photographers. Now the Smithsonian is releasing 202,000 camera trap photos to the public, covering seven projects in four continents.
Taken in some of the world's most remote and untouched regions the automated cameras have captured such favorites as jaguars, pandas, and snow leopards, while also documenting little-known and rare species like South America's short-eared dog, China's golden snub-nosed monkey, and Southeast Asia's marbled cat.
"This site provides the public a glimpse of what the scientist sees when surveying remote places," explains William McShea, wildlife biologist at the Smithsonian Conservation Biology Institute, in a press release. "Not every photo is beautiful but every photo provides information that can be used to conserve wild animals. It is addictive to scroll through the photos at a single site and see the diversity that walks by a single camera in the forest."
Photographing animals in the Peruvian Amazon, the jungles of Panama, the mountains of the Eastern US, the forests of Thailand, the plains of East Africa, and the highlands of China, the collection to date documents over 200 species of mammals and birds. It also allows users to connect directly to information on the species from the International Union for the Conservation of Nature (IUCN) and the Encyclopedia of Life (EoL).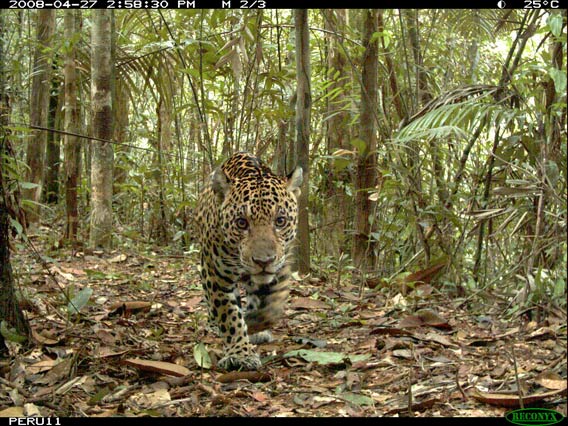 Jaguar (Panthera onca) in the Peruvian Amazon. This species is classified as Near Threatened by the IUCN Red List. Photo credit: Smithsonian.