March 30, 2010
Source:
mongabay.com
Indonesia is preparing to establish a trust fund to reduce deforestation, reports the Jakarta Globe.
The National Forest Trust Fund, which will be raised by the Ministry of Forestry from foreign donors, would be an expansion of a pilot initiative established last year in a debt-for-nature swap between Indonesia and the United States, according to Hadi Daryanto, director general of forest production at the Ministry of Forestry. The money, which would be managed by an independent group, would finance conservation projects and promote sustainable forest management.
Carbon accounting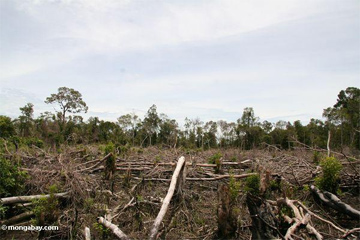 Hadi also said Indonesia would develop its own forest carbon accounting system, one that would be "less complicated" than that employed by the International Panel on Climate Change, according to the Jakarta Globe.
Hadi told the paper that the methodology would allow concession holders to predict how much they could earn from tree-planting.
"One of the ways to store carbon is to plant trees, and that's why it's important that we control our carbon stock" from planting activities, Hadi was quoted as saying. "This will also help concessionaires predict how much investment they can get in the carbon market."
Forest funds
Southeast Asia remains the only major forest region without a forest fund. In Africa, several countries have established the Congo Basin Forest Fund, while Brazil — which accounts for the bulk of the world's tropical forest cover — has set up the $20 billion Amazon Fund. Both funds rely on donations from rich, industrialized nations, but it remains unclear how these funds will be operate under REDD, a proposed climate change mitigation mechanism backed by the U.N.
Indonesia has the world's second highest rate of forest loss after Brazil. In some years, emissions from forest destruction and degradation of peat swamps make the country the third largest emitter of greenhouse gases after China and the United States.