November 29, 2010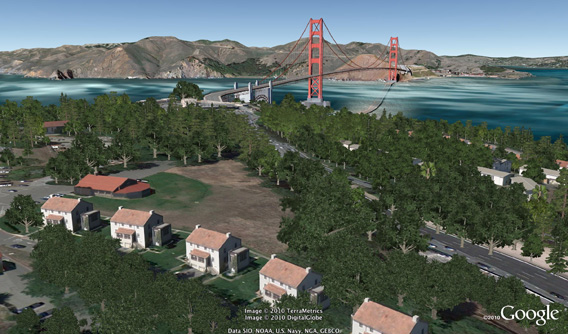 Trees in the Presidio, near the Golden Gate Bridge in San Francisco.
With world leaders meeting at climate talks in Cancun to discuss the future of forests, Google has added 3D trees to the latest version of Google Earth.
Google has populated several major cities with more than 80 million virtual trees based on an automated process that identifies trees in satellite images. The realistic 3D representations are based on actual tree species found in urban areas. For example, San Francisco's Golden Gate Park has nearly a dozens species, including Green Ash, various maples, and cypress, while Tokyo's Yoyogi Park, Shinjuku Gyoen and the Akasaka Imperial Grounds contain Ginkgo, Flowering dogwood, and Cherry trees, among others. New York City, Davis, Berlin, Athens, and Chicago are also represented. More than 40 tree species are currently included.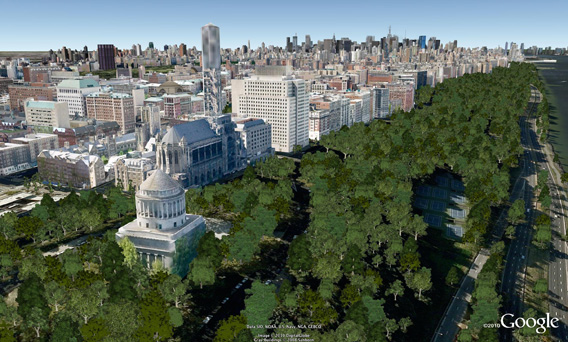 Trees in the Riverside Park, New York City.
But Google has also extended realistic tree coverage to sites in some of the world's most biologically diverse forests. Working with environmental organizations involved in its Google Earth Outreach program, Google has modeled trees in East Africa, the Brazilian Amazon, and coastal Mexico. Google hopes the initiative will help highlight the groups' efforts to protect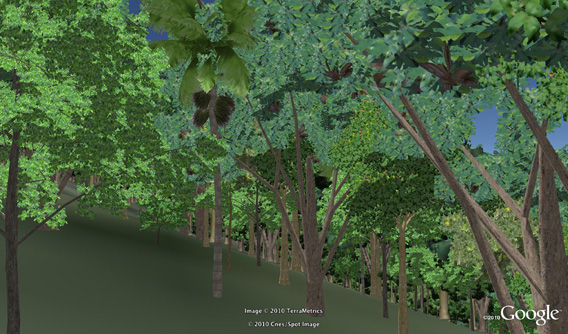 Rainforest trees in Surui territory, Acre, Brazil.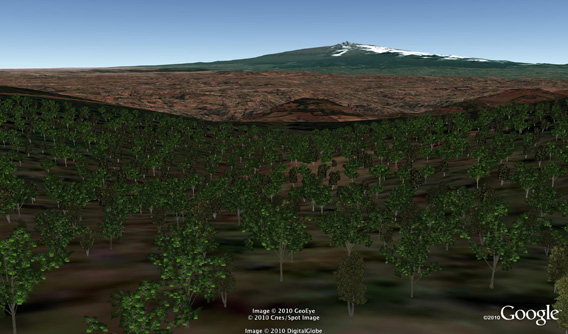 Greenbelt Movement reforestation site in Kenya.
In Brazil, Google worked with the Surui tribe and the Amazon Conservation Team to model some of the most "culturally significant" trees in the Surui's tract of Amazon rainforest. These include the acai palm, known for its protein- and antioxidant-rich fruit; the Moriche palm, an important source of food; the cacao tree, used to produce chocolate; the Cashew tree; and the Brazil Nut, among others.
Meanwhile in Kenya, Google Earth populated five sites run by the Green Belt Movement with native tree species communities are using to reforest degraded landscapes. In Mexico, Google Earth worked with CONABIO, Mexico's National Commission for the Knowledge and Use of Biodiversity, to model mangrove forests, which serve as nurseries for marine life and protect coastal regions from erosion.
"[This] is a visualization of what trees look like all over the world," Peter Birch, Google Earth Product Manager, told mongabay.com. "By highlighting select forest regions, Google Earth is helping tell stories about forests and those organizations."
The latest version of Google Earth includes two other major new features: integrated "Street View", which enables users to zoom from space directly to an on-the-ground view of a place, and improved access to historical imagery, which allows viewers to see how locations have changed over time. Historical imagery can be particularly useful in the context of deforestation. For example, a Google Earth user viewing the area surround the Surui territory can see forests disappear over time as loggers and ranchers move into the region. Today the Surui forest is an island in a largely deforested landscape.