October 12, 2010
Brazil will auction large blocks of the Amazon rainforest to private timber companies as part of an effort to reduce demand for illegal logging, reports Reuters.
The government will grant 1 million hectares (2.5 million acres) of logging concessions by the end of the year, according to Antonio Carlos Hummel, head of Brazil's National Forestry Service. Within four to five years, 11 million hectares will be auctioned.
Existing concessions cover only 150,000 hectares, yet Brazil is the world's largest producer of tropical timber, mostly due to illegal logging on the poorly governed forest frontier.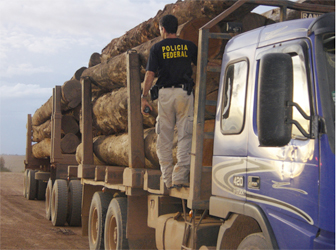 Hummel told Reuters the privatization of Amazon forests would help meet demand for timber products that is currently filled by illicit logging. Most of Brazil's Amazon timber is consumed domestically, rather than exported.
While the Brazilian government currently has a timber tracking system, it has been abused. In 2008 authorities arrested more than 200 people involved in a scam that modified records to increase timber allocations for logging and charcoal companies.
Humel told Reuters that the new plan will include audits by non-government organizations to ensure that companies aren't harvesting forests beyond their capacity to regenerate.
Daniel Nepstad, an Amazon scientist at the Woods Hole Research Center, said while the track record of private forest concessions in the tropics has been "dismal" in the past, he is guardedly optimistic about the proposal. "Forest policies that feature logging concessions to private companies on publicly-owned lands have had a dismal history in most of the world's tropical nations, plagued by graft, crony-ism, and royalties that miss the mark," Nepstad told mongabay.com. "But if any country can make this work, Brazil can."
Brazilian lawmakers appears to share Nepstad's sentiment. Hummel told Reuters that opposition to privatization of concessions has waned since the government last tried to auction forest lands in 2003.
"Back then we didn't explain the process well," Hummel was quoted as saying by Reuters. "Now, it's all cleared up. There hasn't been a questioning of privatization for over a year."
Nevertheless concerns about the system remain.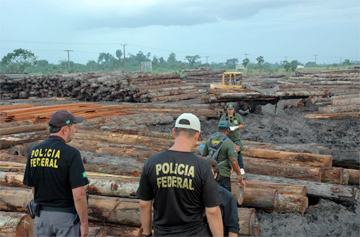 "One obstacle to the policy's success is the difficulty of establishing concessions on the forest lands that are most at risk of deforestation (and most in need of protection) because of previous claims on the forest from land grabbers and legitimate private landholders," said Nepstad, adding that the scale of logging in the Brazilian Amazon will force the government to move slowly on the granting of concessions.
"More than a thousand logging companies supply their mills with timber harvested from privately-held properties and farm settlements in operations that are very difficult for the government to control."
William F. Laurance, a scientist who ran the Biological Dynamics of Forest Fragments Project for several years, said the "the devil is in the details" of the deal.
"Industrial logging on this scale would have a major impact on the ecology of Amazonian forests. But more important is whether or not the selective logging facilitates substantial forest destruction, as has often been the case in the past," he told mongabay.com via email.
"If the logging and be controlled and managed to limit environmental impacts, then it'll be one thing. If it's poorly controlled and just opens up the frontier for more illegal deforestation and land speculation, then it's something else altogether."
"Brazil has done a good job recently in reducing Amazon deforestation but great care is needed--or we might see a return to the bad old days of rampant forest disruption in Amazonia."
Hummel cited bureaucracy and lack training, financing, and technology as big challenges, especially for small operators, like community cooperatives.
However if the new concession system proves transparent, well-managed and credible, it could help Brazilian timber companies export more timber to Europe and the U.S., which have recently enacted strong regulations on illegally sourced wood. At the same time, private concessions could bolster governance on the forest frontier, since registered companies will be under more pressure to comply with laws than informal operators who have legal claims on land. The effect could be to shift the incentive structure for forests in the Amazon, according to Hummel.
"Everything in this country is an incentive for deforestation, for developing destroyed forest. So we're having to change the paradigm -- finance standing forests."