August 11, 2010
Source:
PR Web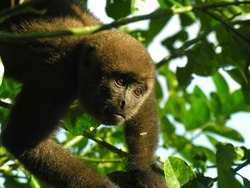 The annual list of the best wildlife-viewing tours to North, Central, and South America has just been released by the National Wildlife Federation (NWF). With a focus on protecting and preserving North American wildlife, NWF is uniquely positioned to help the eco-traveler make sense of a crowded and often confusing marketplace. Type wildlife tour into an Internet search engine and the results can be in the millions. After reviewing itineraries to nearly every major wildlife-viewing spot in the Americas, NWF has selected the 15 best wildlife viewing tours of 2011. The 15 selected tours can be found at www.nwf.org/expeditions.
The 15 selected tours range from a volunteer trip with scientists to study bottlenose dolphins off the coast of Belize, to exploring the wildlife and wild places of Hawaii. There is a cruise through the Amazonian rainforest over Christmas and an exploration of Everglades in southern Florida. Selected programs also feature some lesser-known gems like the biologically diverse Big Bend National Park in Texas, and the Black Hills of South Dakota.
NWF considered a variety of factors in selecting these trips. The conservation group only selected trips operated by tour companies that believe in the highest standards of responsible tourism. They also selected the most experienced tour operators that use some of the world's best nature guides. Also a key factor was price, and tours were evaluated with an eye towards terrific values. Many trips are priced below $2,000 per person.
Once the trips are hand-picked, NWF works with the tour companies to designate a specific date just for NWF members and friends. NWF is hoping to attract a great group of people to each tour. NWF members are curious and adventurous, and treasure the natural world. A group of like-minded travelers with a belief in protecting wildlife for our children's future promises to be central feature of every trip. Another important feature is that every traveler can participate in one of these tours and remain carbon-neutral. NWF is offsetting the carbon footprint of all 2011Expeditions travelers, without raising the cost of the trip.
The 15 selected tours are: Christmas on the Amazon; The Whooping Cranes of Aransas, TX; Kingdom of the Monarch Butterflies; Best of the Everglades; Behind-the-Scenes in San Diego; Wild Hawaii; Big Bend—The Unexpected Texas; Bottlenose Dolphin Research in Belize; Cape Cod Wildlife and Walking; Where the Buffalo Roam (Black Hills, SD); Photographing Yellowstone; Wolves, Bears, Geysers (Yellowstone); Wild Alaska; Galapagos; and Wild Caribbean. For complete details about NWF's Expeditions, call 800-606-9563, e-mail expeditions@nwf.org or visit nwf.org/expeditions.
Note to Editor: Destination photos available on request.
Press Contact: Daniel Gifford, Manager, NWF Expeditions Travel Program, 703-438-6113, dgifford(at)nwf(dot)org.