16 April 2010
Source:
WWF-UK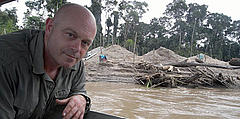 Sky Rainforest Rescue week aims to raise awareness of the urgency of tackling deforestation in tropical rainforests such as the Amazon. Starting on 19 April, Sky will broadcast a range of rainforest and environment-themed shows, movies and documentaries, including specially commissioned programmes starring Ross Kemp and Steve Jones.
Ross Kemp: Battle for the Amazon investigates the impact of increasing global demand for Amazonian commodities, such as beef, energy and minerals, on the rainforest and the people who live there.
Steve Jones Jungle Brothers takes viewers on an adventure through the incredible Amazon, following presenter Steve Jones and his two brothers as they experience life in the jungle.
WWF and Sky joined forces in October to help save one billion trees in the Amazon rainforest. Over the next three years, we aim to raise £2 million, which Sky will match pound-for-pound to reach our campaign target of £4 million.