December 27, 2009
From:
mongabay.com
2009 may prove to be an important turning point for tropical forests.
Lead by Brazil, which had the lowest extent of deforestation since at least the 1980s, global forest loss likely declined to its lowest level in more than a decade. Critical to the fall in deforestation was the global financial crisis, which dried up credit for forest-destroying activities and contributed to a crash in commodity prices, an underlying driver of deforestation.
2009 was also notable for progress made on REDD, a proposed climate change mitigation mechanism that would pay tropical countries for protecting their forests. Over the course of the year, world business and political leaders, prominent scientists and conservation groups, celebrities, and other noted figures voiced support for the concept. Momentum carried into climate talks in Copenhagen, where REDD was one of the only areas to see gains. Concerns over REDD now revolve mostly around the details (implementation, financing, governance, and equity) of the mechanism, rather than underlying idea of compensating rainforest conservation as a means to reduce greenhouse gas emissions.
Drivers of Deforestation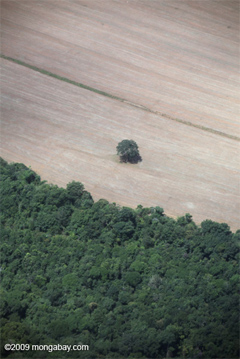 2009 saw major developments reflecting the implications of the shift from poverty-driven deforestation to enterprise-driven deforestation, a trend that continues to accelerate with urbanization and abandonment of government-sponsored colonization projects. While corporations and large landowners have ever-increasing capacity to deforest, the recent shift seems to offer new opportunities for rainforest conservation in that it is easier for pressure groups to target corporations and enterprises rather than tens of millions of poor farmers who are simply trying to put food on the table for their families. Accordingly, major industrial drivers of deforestation — the palm oil, cattle ranching, and logging industries — were significantly affected by activist campaigns in 2009.
In Brazil, the cattle industry was walloped by a Greenpeace report that linked some of the world's most prominent brands — Nike, Toyota, Prada, and others — to destruction of the Amazon rainforest. The fallout from the report was immediate. Some of the world's largest beef and leather buyers suspended contracts with suppliers associated with Amazon forest clearing. The Brazilian government announced a crackdown and fines, raided the offices of powerful cattle companies, and called for a review of loan programs. Government ministers joined the private sector in demanding new chain-of-custody controls for suppliers to ensure that cattle products were not contributing to deforestation. The largest cattle producers and traders soon responded with a moratorium on Amazon deforestation and a promise to implement improved supply-chain tracking mechanisms. The Brazilian cattle industry may now be on the cusp of transitioning from being the world's largest single driver of deforestation to a critical component in helping slow climate change.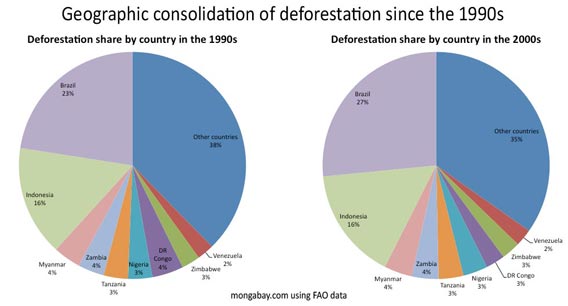 Since the 1990s deforestation has become increasingly concentrated. Recently published research by Matt Hansen of South Dakota State University suggests an even more dramatic shift in recent years. His work, which is based off of high resolution satellite imagery, shows that Brazil and Indonesia accounted for 61 percent of tropical deforestation between 2000 and 2005, rather than the 43 percent reported by the U.N. Food and Agriculture Organization (FAO).
In Southeast Asia, the palm oil industry was stung by the decision by Unilever, the world's largest buyer of palm oil, to suspend its contract with Sinar Mas, the world's second largest producer of palm oil, after an investigation commissioned by the consumer products giant found allegations made by Greenpeace about the palm oil producer's environmental record to be true. The investigation's findings were a blow to the Roundtable on Sustainable Palm Oil (RSPO), which had certified the operations of Sinar Mas as environmentally responsible. Several other prominent palm oil buyers, including Cadbury-New Zealand and Lush Cosmetics, announced they would stop using palm oil in their products following consumer concerns about deforestation. Meanwhile an internal audit by the World Bank's International Finance Corporation (IFC) concluded it had violated its own environmental rules in lending to palm oil companies. Two palm oil companies announced they would forgo development of concessions in carbon-rich areas, instead opting to preserve forests on the land for carbon payments.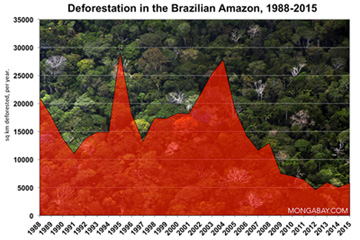 In the forestry sector, several large firms severed ties with timber and pulp and paper companies linked by reports from NGOs to questionable logging practices in Indonesia. The United States and Europe stepped up enforcement of laws and regulations (the Lacey Act in the U.S. and FLEGT in Europe) meant to hold importers to environmental laws in timber-producing countries, while a Brazilian federal prosecutor launched an investigation into charges that illegal timber from the state of Pará is being laundered as "eco-certified" wood and exported to markets in the United States, Europe, and Asia. China's Ministry of Environmental Protection draft regulations that would require Chinese companies operating abroad to comply with environmental laws of China and the host country, although it is unclear whether these will actually be enforced.
More Good News
2009 was marked by a number of other hopeful developments for tropical forests. Brazil, Peru, and the Democratic Republic of Congo established massive new rainforest parks, while Papua New Guinea created it first nature reserve. Norway continued to lead industrialized countries in funding rainforest conservation, contributing a quarter of a billion dollars to Guyana and reiterating its billion dollar pledge to Brazil. The United States, Japan, Australia, France, and the United Kingdom also made large financial commitments towards tropical forests.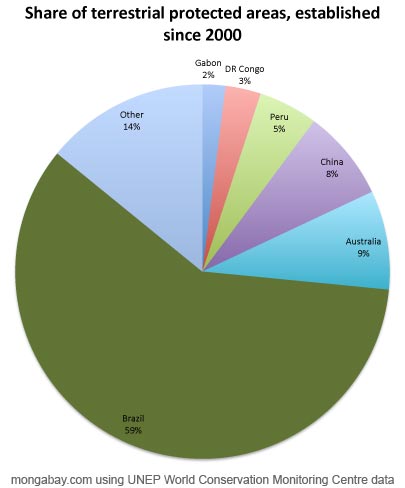 Indigenous rights in Brazil got a boost after a court victory in a dispute with farmers in Roraima and a legal opinion finding that the Surui tribe owns the carbon rights to the land they inhabit, perhaps leading the way for future indigenous-run forest carbon projects. The Surui also unveiled its partnership with Google in developing tools that will enable the tribe to better monitor their territory for encroachment by loggers, miners, and ranchers. Working with leading scientific institutions and NGOs, Google announced the Earth Engine platform, a system that combines its computing power with advanced monitoring and analysis technologies. The platform promises to enable near real-time monitoring of the world's forests and carbon at high resolution at selected sites before 2011. Meanwhile the Woods Hole Research Institute reported progress on a high resolution global forest map for tracking land cover change.
And Some Bad News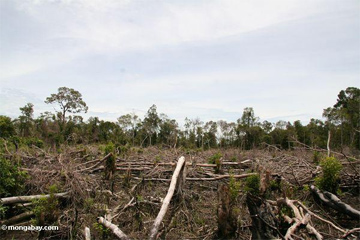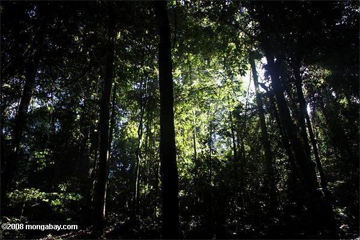 But the good news for tropical forests was tempered by developments including Indonesia announcing its intentions to open up more than 2 million hectares of carbon-dense peatlands to old palm development; the collapse in law enforcement in Madagascar, contributing to an explosion of commercial timber (and lemur) harvesting in that country's spectacular rainforest parks; a breakdown at the RSPO meeting over efforts to reduce greenhouse gas emissions from palm oil production; violent conflict in Peru between government security forces and indigenous groups over land rights and resource extraction; massive foreign land acquisitions in the Congo Basin; dodgy REDD dealings in Indonesia and Papua New Guinea; and large-scale expansion of oil palm agriculture in the Amazon. Brazil moved to grant amnesty to farmers and ranchers who illegally occupy or have illicitly cleared Amazon forest lands, a decision that some say legitimizes past deforestation (others maintain it is a critical step towards improved governance in the region).
Looking forward
While 2009's developments are likely to have long-term implications for conservation, the fate of tropical forests is far from determined. Looking forward, things to watch include: the impact of economic recovery on commodity prices and agricultural expansion for food and biofuels production; large-scale land acquisition by foreign nations and corporations in tropical countries; climate negotiations and the REDD mechanism, including controversies over land rights, "offsetting", forest definitions, and sustainable forest management; the emergence of payments for ecosystem services beyond REDD; the cap-and-trade versus carbon tax schemes; efforts to address the demand side of deforestation — notably consumption; emerging certification systems for agricultural and forestry products; and Brazil's progress in meeting its deforestation reduction targets.