October 07, 2009
From:
mongabay.com
Four of the world's largest cattle producers and traders have agreed to a moratorium on buying cattle from newly deforested areas in the Amazon rainforest, reports Greenpeace.
JBS-Friboi, Bertin, Minerva and Marfrig will implement certification and monitoring systems to ensure that beef and leather in their supply chains is not being produced as a result of new forest clearing. The companies also agreed to ban buying of cattle from ranches using slave labor or illegally occupying protected areas and indigenous reserves.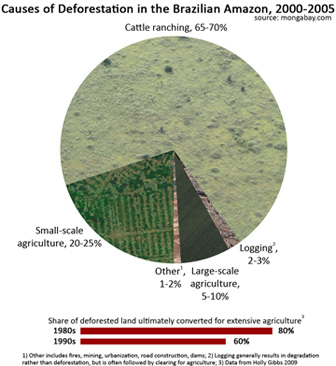 The agreement is significant because cattle ranching is the single largest driver of Amazon destruction: 80 percent of deforested land ends up as cattle pasture. Ranching is also Brazil's largest source of greenhouse gas emissions.
"This is an important step in the fight to stop the destruction of one of the world's most critical rainforests and vital to helping tackle climate change," said Paulo Adario, Greenpeace Amazon campaign director.
The agreement [the text of which follows the "Related articles" section at the bottom of the post] is partly a response to the fallout from a report Greenpeace published in June. The report linked some of the world's best known consumer product brands to illegal Amazon rainforest felling. Days after the report was released, Brazil's biggest domestic beef buyers, supermarket chains Wal-Mart, Carrefour, and Pão de Açúcar, announced they would suspend contracts with suppliers found to be involved in Amazon deforestation. Bertin, the world's second largest beef exporter, saw its $90 million loan from the World Bank's International Finance Corporation withdrawn. Investigators raided the offices of JBS, the world's largest beef processor, and other firms, arresting executives for corruption, fraud, and collusion. And a Brazilian federal prosecutor filed a billion-dollar law suit against the cattle industry for environmental damage, warning that firms found to be marketing tainted meat will be subject to fines of 500 reais ($260) per kilo. BNDES, the development bank that accounts for most financing for the agricultural sector in Brazil, announced it would reform its lending policies, making loans contingent on environmental performance.
These developments virtually ensured that the industry would have to establish better monitoring and verfication systems for their supply chains. Now the question is whether these systems will be credible enough to appease buyers, regulators, and environmental pressure groups.
(Image: JBS-Friboi is the world's largest beef producer and global exporter of processed beef; Bertin is the world's largest leather exporter and Brazil's second-largest beef exporter; Minerva is Brazil's third largest beef exporter; Marfrig is the world's fourth largest beef producer.)