September 02, 2009
From:
mongabay.com
Deforestation is the Brazilian Amazon is likely to fall between 8,500 square kilometers (3,088 square miles) and 9,000 sq km (3,474 sq mi) for the 12 months ended July 31, 2009, a reduction of 29-37 percent from last year, reports Brazil's Environment Minister Carlos Minc. If the estimate is confirmed by high resolution satellite data to be published later this year, the rate of forest loss for 2008-2009 would be the lowest since annual record-keeping began in the 1980s.
"We'll have the lowest deforestation in 21 years," Minc said at a news conference in Brasilia, according to Reuters.
Minc's estimates are based on a preliminary report by Brazil's National Institute of Space Studies (INPE), which showed a 46 percent reduction in deforestation in the Brazilian Amazon for the year ended in July. Minc attributed "90 percent" of the reduction to increased enforcement effort, although analysts suggest that falling commodity prices have had a significant impact in the trend. Agricultural production is an increasingly important driver of forest clearing and conversion in the Amazon.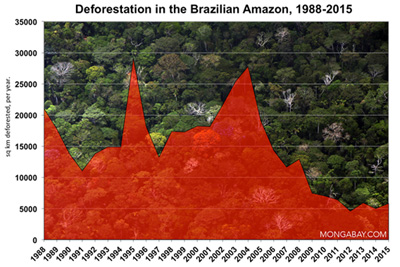 The reduction in Amazon deforestation comes a year after Brazil announced an ambitious plan to reduce forest loss by 70 percent by 2018 as part of its climate policy. Deforestation accounts for more than half of Brazil's greenhouse gas emissions and nearly 20 percent of emissions worldwide. Brazil is seeking billions of dollars from industrialized nations for its efforts to reduce deforestation but is opposing an scheme that would allow rich countries to "offset" their emissions by paying tropical countries for protecting forests. Brazil argues that industrialized countries need to do more to reduce their own emissions.