7th July 2009
From:
mongabay.com
News Link:
http://news.mongabay.com/2009/0707-new_monkey_wcs.html
A new species of monkey has been discovered in the Brazilian Amazon, reports the Wildlife Conservation Society.
The monkey, a type of saddleback tamarin, has been named Mura's saddleback tamarin (Saguinus fuscicollis mura) after the Mura Indians, the Amerindian ethnic group that lives in the Purus and Madeira river basins where the monkey occurs.
The monkey is mostly gray and dark brown in color, with a distinctly mottled "saddle", and weighs 213 grams (less than three-quarters of a pound). It is 240 millimeters (9 inches) tall with a 320 millimeter (12.6 inch) tail.
"This newly described monkey shows that even today there are still major wildlife discoveries to be made," said Fabio Röhe of the Wildlife Conservation Society, lead author of a paper that describes the new species. "This discovery should serve as a wake-up call that there is still so much to learn from the world's wild places, yet humans continue to threaten these areas with destruction."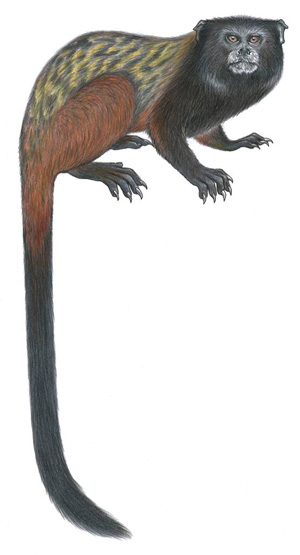 Röhe and colleagues say the newly discovered money is threatened by several planned development projects in the region, particularly the paving of Manaus–Porto Velho (BR 319) highway, which will facilitate the expansion of unofficial road networks, promoting logging and deforestation for cattle pasture. A proposed gas pipeline and two hydroelectric dams (Santo Antônio and Jirau on the Rio Madeira in the state of Rondônia) are also threats to the region's forests.
"The increase in human populations resulting from the developmental projects and improved infrastructure will result in widespread loss, degradation, and fragmentation of the forests... threatening not only these tamarins but also the entire fauna and flora of the region," the authors write. "Predictions of deforestation in the Amazon over the next decades indicate that Saguinus fuscicollis mura, even with the most optimistic scenarios, will be confined to small forest patches and close to extinction within the next 50 years."
"We hope that the discovery will draw attention to conservation in this very fragile but biodiverse region," said Dr. Avecita Chicchon, Director of WCS's Latin America Programs.
WCS researchers have discovered several new monkey species in recent years including the Arunachal macaque, discovered in India in late 2004; and the Madidi monkey, discovered in Bolivia in 2005; and the Kipunji, discovered in Tanzania in 2005.
Saddleback tamarins are found in the upper Amazon, west of the Madeira and Mamoré–Guaporé rivers to the Andes. There are currently 13 known species and subspecies in Bolivia, Brazil, Colombia, Ecuador, and Peru.
The discovery was published in the June online edition of the International Journal of Primatology. Authors of the study include Fabio Röhe of the Wildlife Conservation Society, José de Sousa e Silva Jr. of Museu Paraense Emílio Goeldi, Ricardo Sampaio of the Instituto Nacional de Parquisas de Amaozônia, and Anthony B. Rylands of Conservation International.